---
We are casting light onto conservation!
Liezel Weber
The non-profit organisation, Care For Wild Rhino Sanctuary (CFWRS), will soon benefit from a completely off-grid solar solution courtesy of the Sectional Title Solutions (STS) Group of companies and Bright Light Solar.
The devastating impact of deforestation, climate change and the poaching scourge has left and continues to leave behind young, defenceless, orphaned Rhino calves. The threatening situation has created a need for greater backing of the conservation efforts to save this iconic, keystone species from extinction. The STS Group, in conjunction with Bright Light Solar, has stepped in to ensure the sustainability of one of the world's largest specialised Rhino conservation facilities with a completely off-grid solar PV solution. This solution will cater for the sanctuary's day to day power and water necessities.
Core to the STS Group, and shared by CFWRS, is the value of collaboration. The sanctuary aims to save the Rhino from extinction through partnerships and community participation. Expressing his excitement for the initiative, Johnny Wates, Chief Executive Officer of STS, says, "Environmental stewardship is a longstanding focus at STS Group and one of my personal passions, so we are thrilled to implement this solar energy solution for the sanctuary. By helping protect Rhino, we're helping to conserve their habitat for the benefit of people and other wildlife, making sure natural resources are available for generations to come. It is frightening that we could one day wake up to a world without one of the Big five if we do not get involved in a big way."
The sanctuary is currently running a combination of expensive generators coupled with a small and inefficient solar and battery solution. Their current setup has proven to be unsustainable, mainly due to unpredictable fuel costs.  Also, being a conservation effort, their current system has detrimental environmental impacts in terms of CO2 and noise pollution. The STS Group of companies and Bright Light Solar will install and pay the monthly solar and battery storage costs on behalf of the sanctuary to cater for its power requirements and future expansion plans.
The first phase of the implementation commenced with the delivery of a 45kVA 3phase fully insulated container complete with cooling, lighting, filtered vents and complemented with eight 7.4kWh batteries totalling 59.2 kWh. The array will be fully operational from June 2021, fully capable of meeting the sanctuary's needs and resulting no hum from generators on sunny days. Bright Light Solar Director, Michael Faber, says that the project will produce around 41 760 kilowatt-hours of electricity each year.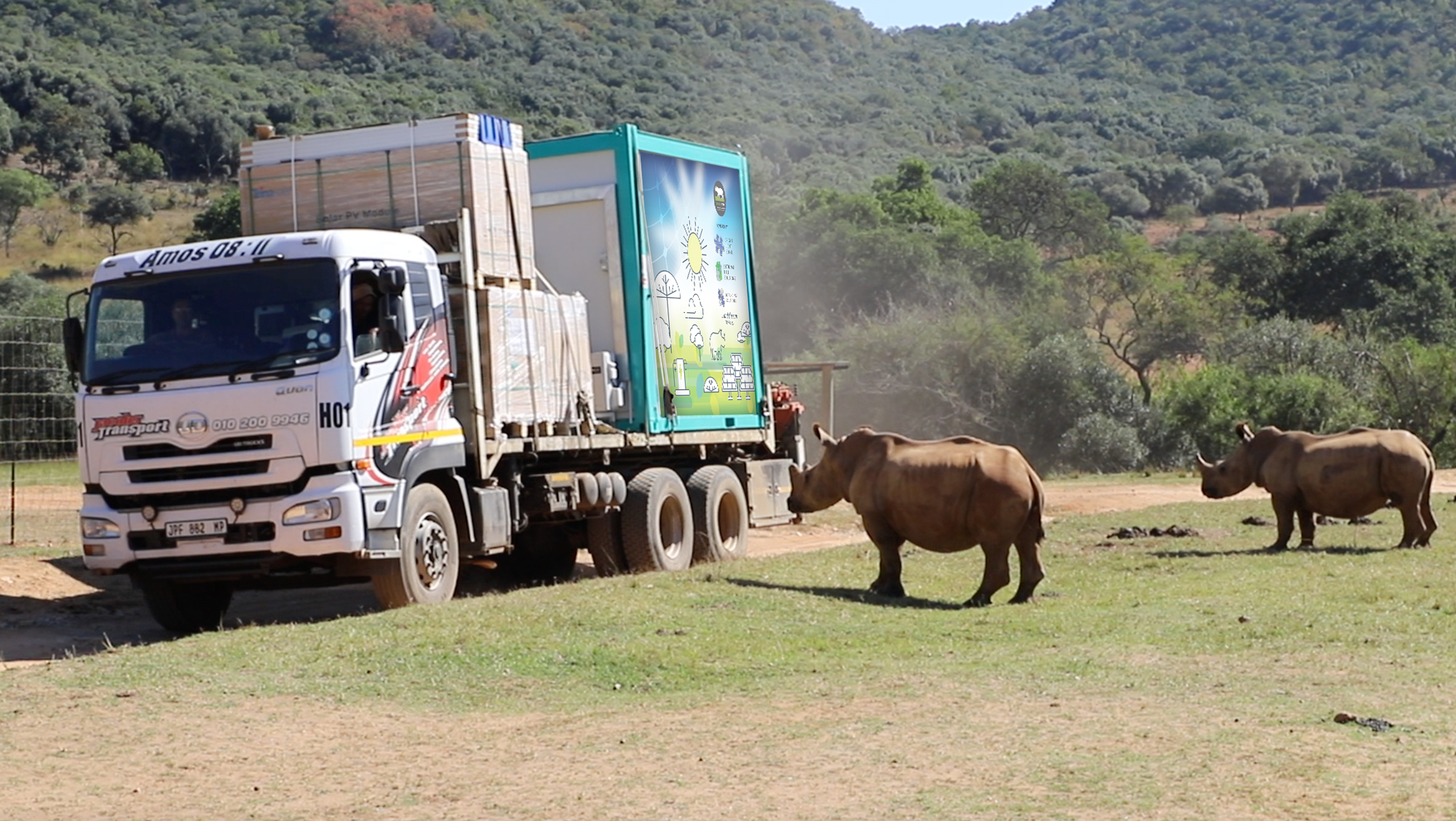 Mayar and Blossom look on curiously as the supply truck arrives at the sanctuary. Blossom is on the right. You can see that she is missing a piece of her tail – it was chewed off by hyena after her mom was killed. Mayar (on the left) was so traumatised when she arrived at CFWRS that she didn't eat properly for a month. It took a lot of dedication and perseverance to pull this little one through. Blossom played a big part in helping Mayar to adapt to her new life.
"We are in the last minute of the last hour to save the planet. We must put nature at the front of every decision we make. Through the renewable energy of solar, provided by the STS Group and Bright Light Solar, we can move another step closer in our responsibility to protect mother earth for future generations. Good partnerships like this help us to reach our goals and achieve a better and more sustainable future for all. This is very exciting for us." 
With the intent of significantly improving the broader South African community through strategic collaborations and social investments, whilst also protecting the environment, the STS Group uses sustainability as the golden thread of all its endeavours. "We are passionate about solar and the benefits it has for our country and the planet. We see choosing solar over conventional energy solutions as a 'win win win" scenario where you get to cut costs while contributing positively to the environment – leaving a lasting green legacy for future generations to enjoy", concludes Johnny Wates.
CFWRS's major drive at the moment is the purchasing of Teff bales to help feed the rhinos during the upcoming cold winter months. To get involved in the Teff bale drive or any of the initiatives from the sanctuary (like adopting a rhino, donating via their Wishlist, volunteering etc.) visit their website to find out how you can lend a helping hand: www.careforwild.co.za